great moments in irony ha ha
Mood:
not sure
I was driving down I-70 on my way to a show in St. Louis when a billboard caught my eye. Unfortunately, I wasn't able to get a picture but a week or so later I was out that way again and remembered the task so here it is.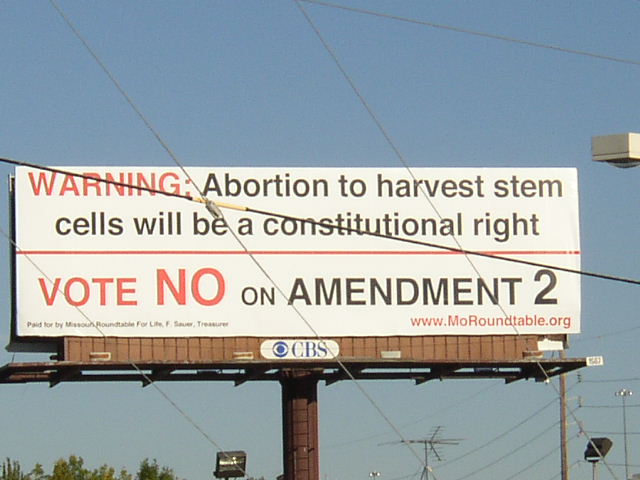 Does anyone else see this and not find a down side to it?
If it wasn't so real and scary I'd be laughing my ass off. There's just something warped about somebody being so militant about fetus' and embryos - even to the point of getting their panties in a wad over the stem cell research issue, which may actually help cure a number of illnesses, while they seem to not give a damn about those who already have a pulse. Yeah there may be questions surrounding embryonic stem cells (mainly the concept of corporations increasingly patenting the human body. Maybe such research should be made non profit and part of the public trust. But that's just my suggestion), but abortion ain't it (hell, they aren't perfoming abortions for stem cells regardless of what Rush Limbaugh says (he must've backslid onto the pills when he told that whopper). Ironicaly, from what I understand, many of these frozen embryos would just be destroyed eventually if not used. WIth this in mind, it gives the whole "pro life" twist an irony that I couldn't make up in a million years.
That's how things are going here in Missouri. Hopefully some good things will happen in the election and we won't keep on going down the wrong road. Regardless of who wins, we have to be eternally vigilant to make sure things go how they're supposed to. The other side keeps on the trail, we have to also.
I know some people will disagree with me - and that's okay. Now go ahead and argue amongst yerselves. I have other things to take care of.
Posted by thetroublewithnormal at 8:05 PM CDT