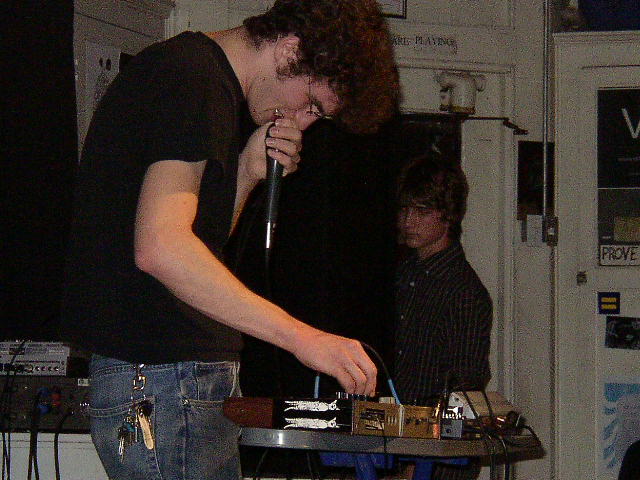 Charlie
At the time of this show Labor Day weekend was last weekend, pretty much ending summer in all but name.  We still had the humid weather but it was back to the grind we all come to know and tolerate.  Meanwhile, the society seems to be falling apart around us as the economy is just about to hit the skids.  For me it was the usual rut of looking for work and other facets of survival that was on my neck.  I needed to get out of the house for a little bit and when I heard about this show at the Lemp, it piqued my curiosity.  
Playing first tongiht was Charlie doing a noise set (the Stiff Kittens dropped off the bill at the last minute).  Using a microkorg, a mixer, and numberous effects, the night began with a dissonant noise piece that intended to challenge what music was supposed to be.  While it is interesting to perform this type of music, the performance can be a bit offsetting to those not expecting its confrontational nature.  Nopise fans will be into it but the polarizing effect of such a piece has to be taken into account when seeing a performance of this nature.
Up next was the Shitty Friends to take the night somewhere totally different.  This trio used electric guitar, various assorted percussion instruments, and melodica to produce a type of low key indie pop with a mix of quirky elements, introspection, and a sense of not knowing what's next.  From the brief meshing of old songs covered between their original material  on, this band veered into a feel and vibe that could be strange, jarring, buit kept me curious.  I never heard of the Shitty Friends before this night but I want to see more.
The Shitty Friends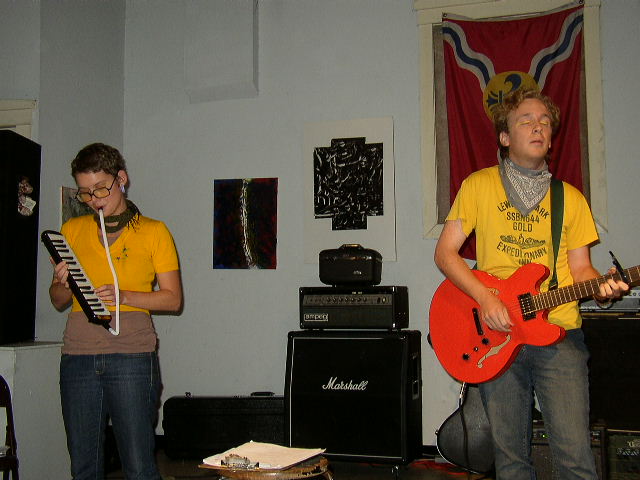 Shortly after the Shitty Friends ended their set it was time for Bellafea to set up and begin to play.  This Chapel Hill trio dove headlong into a set of heavy indie rock (for lack of a better term) built on driving beats and bittersweet toned hard edged guitars.  While the band takes on a smewhat known path, their music has a darker vibe at times and seems more along the rock lines than a lot of indie rock these days.  Tonight their set was one with a fair amount of heft with songs calling to mind an early 90s DC influence way more than shoegazer pop.  There's something about this band that caught my interest and made me want to know more about them.  If you get a chance to see Bellafea, please do so.  I know I will.
Bellafea live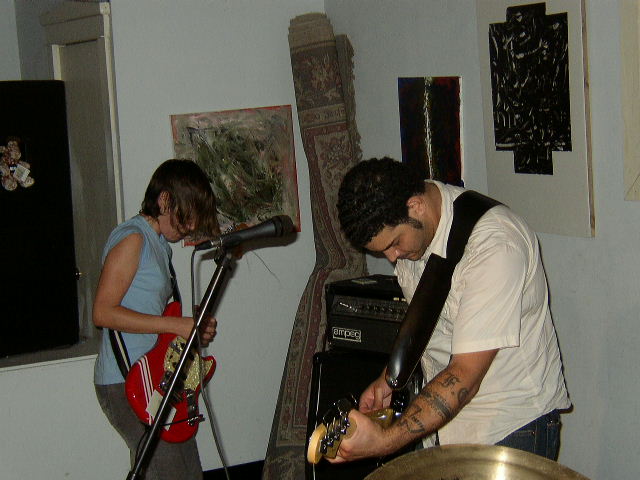 After the show there was the usual milling about as people got ready to leave.  I decided to see if I could get an interview (the results will be in the next print issue).  After a while it was time for me to go back to the sticks and the grind.  It was a good night and a good way for me to release some tensions I was dealing with.
    - Boone