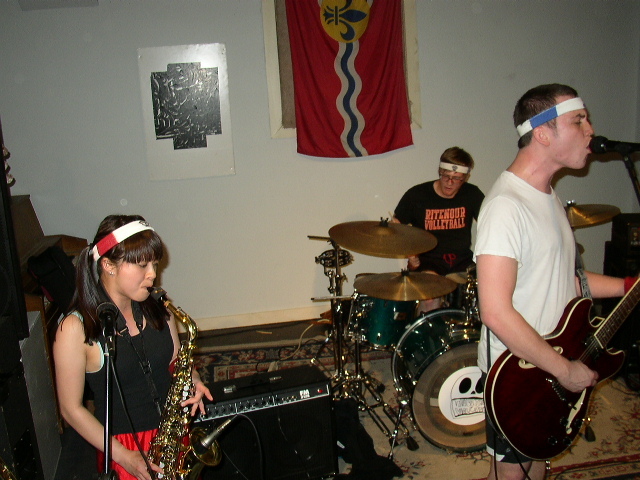 The Ultraviolents
As I write the motes for this review summer is on the verge of kicking off. Memorial day weekend last week kicked things off and, even though summer might not have the same meaning to adults as it does for kids, the vibe is changing as people try to plan something resembling vacations (especially given everyone being downsized these days). As for me, things are up in the air and I'm trying to get by just like everybody else these days. However, I have plans for this weekend with hopes of snaring an interview to kick off the TTWN's local band profile section (see issue 95 for said interview – ed) and learned of this show at Lemp. So I was off to south St. Louis for this show.
I arrived at Lemp about 15 minutes or so before the Ultraviolents played their opening set. After a brief sound check, the St. Louis based foursome dove head first into a set of noise powered shred rock fueled and driven by effects laden guitar and saxophone for their wall of noise approach. Their songs are aggressive and sometimes off kilter, yet their music has a somewhat secure base in indie/art rock circles. While I was unfamiliar with the band's songs there's something here that has me curious about what will happen to the Ultraviolents as the down continues down somewhere down the road. I need to see this band again before I fully make a judgment.
After the opening act, We Are Hex arrived and began setting up with speed and precision before kicking off their set. By the time it was their turn to play, we were all ready. This band offered up a type of semi art rock meets post HC indie where punk, space rock, indie and noise combine as one. Blending ethereal guitar sounds with aggressive beats and sometimes moody, even eerie, synthesizers, their songs manage to walk the fine line between spacey chill and in your face rockers. Hard driving yet somewhat hard to typecast, We Are Hex put on a show that held the crowd and rocked our asses off. Even though they might give you a case of keyboard envy (looking at their stage rigs, you'll see why), this band will rock you in their own unique way. If you get a chance to see We Are Hex, by all means do so and feel free to make up your own mind.
We Are Hex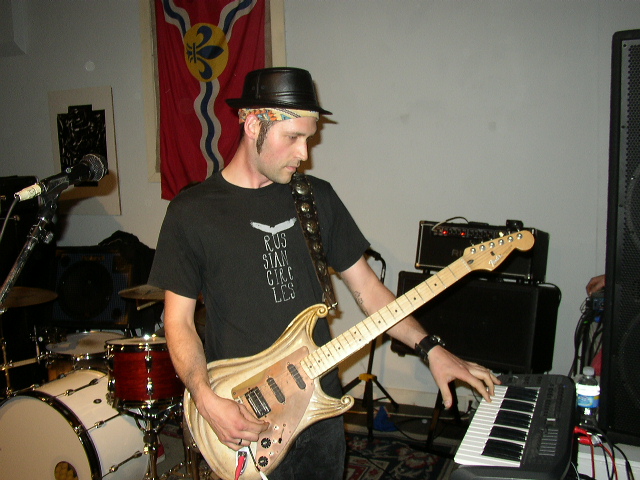 I knew a little bit about Gay Beast since I picked up their split 7" with TWIN when I saw the latter band a while back, but didn't know what they'd be like live. Once they started, their set took things in yet another direction entirely. Musically, they use guitars, drums, synths, and the occasional saxophone to create a hard-edged occasionally obtuse type of music that exists somewhere between indie rock skronk and free jazz with the melodic and the atonal becoming blurry in the process. Their songs have the appearance of chaos but actually use structure and harmony to their own ends. While many people might consider these guys a math rock band, Gay Beast's jazz and experimental leanings put their own spin on the aural crossfire that emerges when they play (and can be difficult to explain to the uninitiated). They aren't the most accessible band in the worlds but this band has a spark that kept my interest and makes me wonder what they'll do next. I'm glad to finally see them live.
After the show I talked to a couple people and managed to score an interview (see 17thanniversary issue for interview with We Are Hex - ed), but eventually it was time to head out. Anyways, it was good to have a brief break from the chaos and wondering what was going to be next. A good night out for what would be a long (though somewhat necessary weekend).
- Boone
Gay Beast