As you may have picked up on from the previous review, this was a hectic night for me. I had left the King of the Roots battle of the bands show at the Blue Note early to check out another show. Thus, I tried to make it over to the No Coast as quickly as I could hoping that I didn't miss the whole damn show in the process. Imagine my surprise as I found out things that the show hadn't gone on yet.
I arrived at The No Coast just as Midnight Suit was preparing to play. This sextet from Fargo, ND backed things into gear with a set of atmospheric post HC where airy synthesizer textures meet with heavy, sometimes technical guitars and in your face beats for a sound that lies between punk, emo, grind, and metal at times. Riding the contrasts between melodic and dissonance, Midnight Suit stays current yet has the potential to transcend the post HC/emocore tag some people would label them with. I never heard of this band before seeing them tonight but I found them interesting and I'm curious what will happen with them down the road. If you're into (or even curious about) the screamo/post HC stuff this is a band you may damn well want to check out.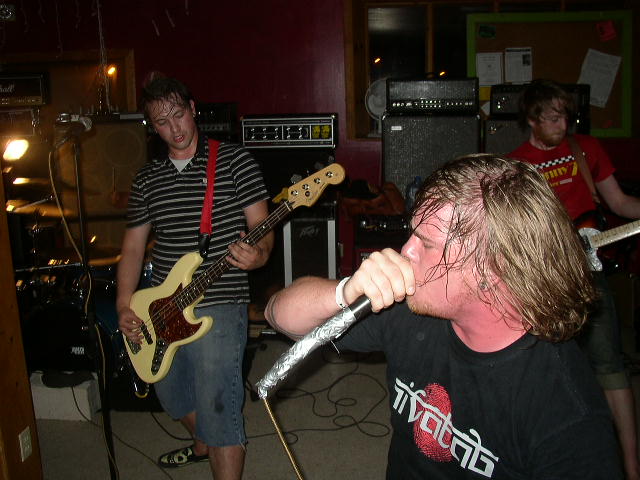 MIDNIGHT SUIT
Up next were the band Battlefields and Rosetta about to do something fairly unique – both bands playing their sets together. Actually each band alternated between songs throughout their set. Rosetta's sound is intense post HC with noise elements built on a foundation of pummeling drums and wall of sound guitars where arty effects meet crushing energetic noise to create a sonic clash that have more to it than it sounds like in writing.
Battlefields' sound is heavier with a sonic ferocity more in line with doom metal than HC. Blending modern technology (synths and samplers) with dual guitar heaviness, this band's set was a sonic tank with power chords that double as weapons and an aggression that matched the humidity of the Missouri summer that filtered into the heat and sweat of the No Coast.
ROSETTA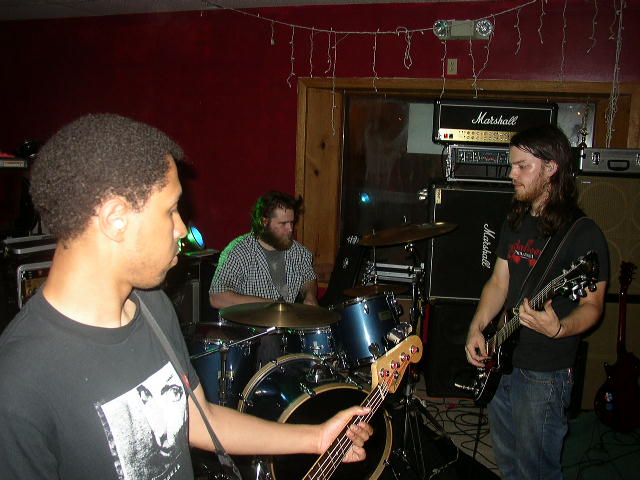 The alternating approach between bands managed to show both of them in their full sonic fury with an intense sonic palette and all instruments set on destroy. It also played up to the bands' sonic contrasts meshing Rosetta's artier elements with the unrelenting sonic attack of Battlefields. At the end both bands joined forces for a song. The result was noise, tweaked out and heavy with almost psychedelic traces woven into the rock intensity of the night. This was unapologetically in your face and pure heaviness. In other words, it was fucking amazing.
Needless to say by the end of the night I was exhausted. Between the paying job and hitting two shows in one night it was easy to end up drained, especially in the oppressive heat of the Missouri summer. It was a damn good show but I really needed to get some sleep. It ended up being a good night; a long night but a good night.
- Boone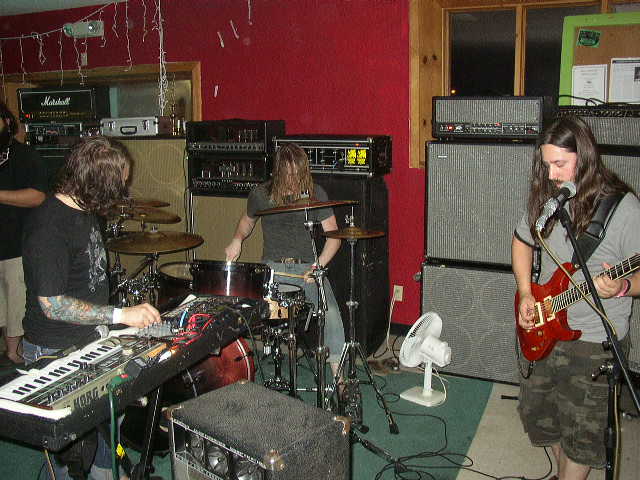 BATTLEFIELDS