Another month is here and things are getting a little busier for me. My paying job has kept me busy but things are also a little less dire in other areas. Suddenly there are a lot of shows popping up that I'm curious about, meaning it's going to be a busy few days for me. However, that might be a good thing since I needed to get out of the cabin fever I'd been dealing with lately. Since I hadn't been to Lemp in a while I decided to take the plunge and drive on out to St. Louis for this show, wondering what was going to go down.

I had absolutely no idea what to expect from Stiff Kittens when they came on to play the opening set of the night. This quartet kicked the night off with a set of simple straight in yer face punk rooted in early 80s HC. The songs were no frills and to the point driven by the tight rhythms and short relatively fast songs full of rock n roll hooks and unpretentious attitude to them. Yeah, the band was rough around the edges but there's something honest about Stiff Kittens that has me curious about them to say the least. This band isn't reinventing the wheel but they do give it a boost to improve the sonic performance a wee bit.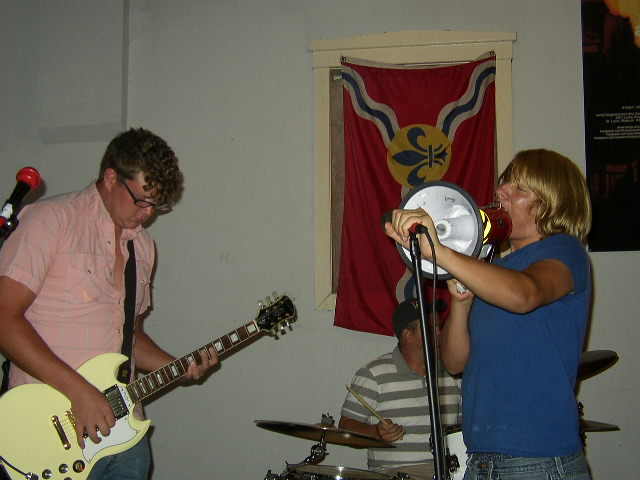 STIFF KITTENS
After a brief break to tear down and set up (in other words- typical between band stuff at a show) it was time for Degenerettes to come up and play. This Baltimore based trio spared no time jumping into their type of stripped down garage rock songs using the usual suspects (guitar bass and drums). Their songs were a bit raw at times but the band went at it straight ahead letting the songs state the case. Quickly overcoming the small technical problems (microphones shorting out and an amp being unplugged), this band gave the few who attended simple rock n' roll that while not perfect has a spark that kept people listening. It will be interesting to see how this band grows with time. Definitely check out the Degenerettes live if you get the chance.
THE DEGENERETTES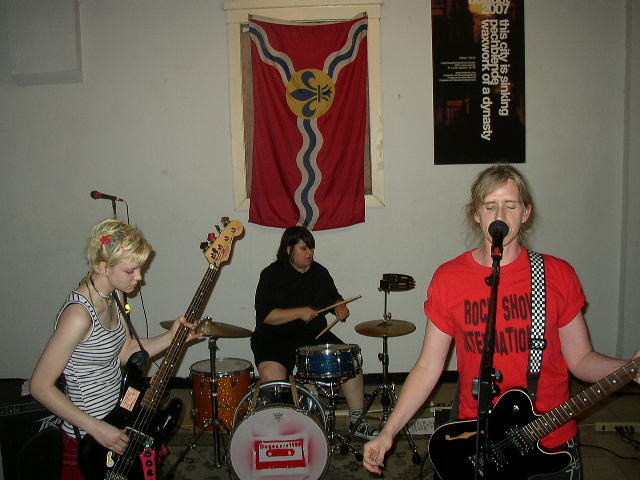 After a brief break things took a completely different turn as Mark Sarich put on a short industrial set. Using voice, effects, and noise generators (though not keyboards or synths, ironically enough), the duo (he was accompanied by another person whose name unfortunately escapes me) gave those who stayed a track of industrial sound that leaned towards noise rather than anything danceable. While interesting, this type of sonic manipulation will either really intrigue you or make your flesh crawl. It was relatively short but managed to turn the evening on its head.

With the end of the noise set the night was over. It was an interesting night in a lot of ways. I got a chance to check out some bands I hadn't heard before and managed to get out of the house for a little bit. It was going to be an interesting few days.
- Boone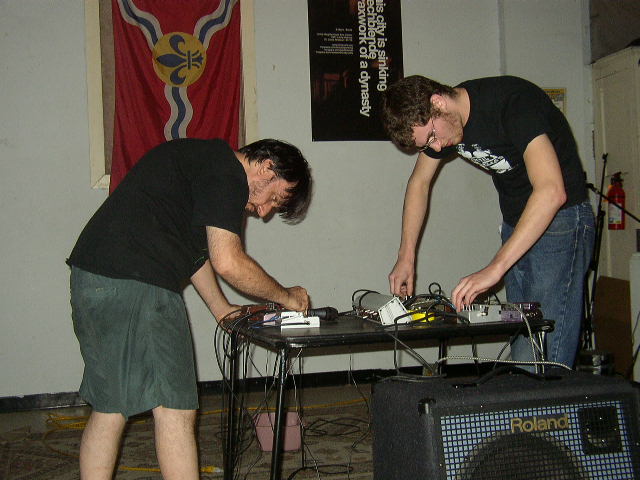 MARK SARICH TAKING IT SOMEWHERE DIFFERENT